Happy Holidays - Merry Christmas - And a happy New Year
22. December 2016
It was an exciting and successful year
And you are the ones who made it possible!
No matter if as an author, publisher, illustrator, designer, game tester, game partner, adviser or "just" a friend. There would be no White Castle without you.
Thanks for your ideas, feedback, dedication, advice, smiles, rule explanations, for busting me at certain games and for your time in general! You shape us.
In the Christmas card on the left, you find some of our 2016 games.
Don't forget to check out more new exciting games which will be out there in 2017!
Illustration: spiellu.com
The Master Class of Boardgame Design in Korea
25. November 2016
An informative, exciting and fun event!
It was an honor and a pleasure to be a speaker at the first MCBD. The organisation was perfect, the attendees many and interested. It was great to exchange experiences with them, the organizers and the other speakers. And it was also great to just play games or do Karaoke!
I am looking forward to the next edition.
Foto: Agsty
Spielespass: A new board game event in Vienna
21. November 2016
There was no Spielefest this year. But...
...for the first time, the "Spielespass" took place in the halls of Messe Wien - next door to the "ComiCon", which took place the same weekend. About 15.000 visitors came to the fair. Many of them found the way to our "game design area", where they tested the latest prototypes of our game authors and gave (good and critical) feedback. Two of our games even made it to the "
Top 5 board game insider tipps
" list of the Shock2 Blog without being published yet! Thanks to all visitors who played with us. And thanks to all authors who made the "game design area" so vibrant and who were open for all kinds of players and all kinds of feedback! Hope to see some of the prototypes in their published form on the "Spielespass 2017".
"4 Seasons" at the Spellenspektakel
21. November 2016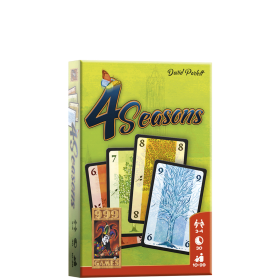 David Parlett's old-new trick taking game was presented by 999 Games
The visitors of the Spellenspektakel had the unique chance to get the Dutch promo copy of "4 Seasons" for free. David Parlett created the very first version of this game back in the 1960s, using the title "Ninety-Nine". Check out the development of the
early version
on BGG! David came up with several different variants, one of which is called "Sphinx". This was the one we picked up some time ago. Johannes Krenner worked with David on the 2016 edition, which was especially made for the Spellenspektakel. Next year, there'll be yet another edition for stores.
SPIEL 2016: Meetings
18. Oktober 2016
We spent most of our time in our little office cabin...
...seeing new game ideas and present the ones we already have in our portfolio. Thanks to you, inventors and editors, who took the time for a meeting with us. This will result in some brilliant projects. Thanks also to everyone who spent time with us in the evenings, playing games, chatting or daffing. Without these evenings and without you this industry would only be half as awesome as it is. It was a pleasure! We wave good-bye and look forward to next year!
SPIEL 2016: Records
18. Oktober 2016
More visitors, more exhibitors, more games: Spiel 16 breaks all records
It's been the 34th Spiel event and it is still growing! There was an impressive run on the halls each morning when they opened. (Foto: Friedhelm Merz Verlag) It's impressive to see how eager people are to try new games.
The media coverage was also quite impressive. So whoever thinks playing games is boring or old fashioned doesn't have a clue and should come and visit the Spiel in Essen 2017!
schau:SPIEL testing games on the 1st of October
7. September 2016
Test game prototypes with spieletest.at, White Castle Games & Designers
Before the little game ideas become big successful games, they must be tested, revised and tested again. If you want to try what the not-yet-published prototypes of Alexander Pfister, Arno Steinwender or the JoKer are like, you are welcome to playtest them on the 1st of October at SpielBar.
Several designers will attend in person and face your brutally honest feedback. We will raffle games among all test players.
Here's the Link to the Facebook event: facebook/schauSPIEL
Summer's almost gone - what did we do?
7. September 2016
We didn't post any news during Summer, but we weren't lazy
Here are some highlights of what we've been up to:
JUNE: The ZAMspielen was a very interesting event. In the middle of blinking consoles and humming video beamers, we were the island of the analogue, the eye of the digital storm. Great fun!
JULY: There is no better place to test prototypes, than in a Spanish Finca.
AUGUST: Of course it makes sense to meet in Barcelona for the weekend just to play board games. Published games. No prototypes. Ahh! Beautiful!
Game designer convention Göttingen 2016
1. Juni 2016
Goint to the annual Göttingen weekend!
With our current portfolio packed and motivated to find new game ideas, we'll attend the game designer convention in Göttingen on both days, Saturday and Sunday. We are looking forward to meet all of you!
Kinderspiel des Jahres Jury recommends HARRY HOPPER
23. Mai 2016
Florian Nadler's first release "Harry Hopper " (Kosmos) on recommendation list
We congratulate Florian and the Kosmos team with a triple: "Flipp, flipp, hurra!" Check out this great action game, which - according to the jury - "lets kids and also adults leap for joy over and over again".
Back from the Game for Life 2016
28. April 2016
In the Europark mall, 4600€ für children with EB were brought in
It's always fun to meet new people and known faces and spend 2 days of games with them at the GfL. Thanks to the organisors and to all (test) players. You didn't go easy on us and thereby gave us useful input.
Example on the left: Alexander Schilpp's & Johannes Krenner's "Last Tribes"
Foto: GfL
The Don't Panic Convention
18. April 2016
A weekend of gaming for a good cause!
For the second time the DPC took place in the Louise-Braille-Haus in Vienna. We thank the orga team and all the (test) players. You gave us very fruitful feedback!
Example on the left: Alex Pfister's new dice game idea...
Foto: DPC
April Event No. 2: Game for Life
18. März 2016
On the 16th and 17th of April in the Europapark Salzburg
Another regular charity gaming event we hold very dear. On whole night of gaming in a closed shopping mall - that's crazy!
As long as the shopping mall is still open, we provide primarily game prototypes which are quick to learn and play. Any passers-by are welcome!
But we also have more complex games with us and are looking forward to your critical opinion on them.
If you have created a game yourself, we are happy to examine or play it and give you an on-site feedback.
April Event No. 1: Don't Panic Convention
18. March 2016
10.-17.4. in the Louise Braille Haus in Wien Penzing
For the 6th time we attend the legendary games charity DPC, where we provide prototypes of our game creators for testing.
We are looking forward to your pitiless critiques and to hours of fun and excitement of gaming!
Thanks in advance to the hosts who are working tirelessly to make this event possible.