Merry Christmas & and a happy...
22. December 2017
...New Year!
We are on holidays and will be back in office on the 3rd of January.
The next weekly game design meeting will take place on Monday, 8th of January.
NOTE! From now on the weekly meeting will already start at 6pm, still in the Spielbar, still with open end.
Enjoy recreative holidays, have a great New Year's party and make sure to take enough Time to play!
SPIEL 2017: So many games to see...
03. November 2017
This year there were lots of games from our authors to find in Essen
Apart of enjoing the many new releases, we were of course looking for new ideas and presenting the lates protoypes of our authors. For the first time, we had our room at the booth of the Austrian Games Club. A wonderful cooperation. You'll probably find us there next year too!
"Smart 10" is awarded "Best adult game" in Schweden
13. Oktober 2017
Arno Steinwender & Christoph Reiser's new trivia game system
was only just released by Martinex. But it already won the Swedish game award "
Arets Vuxenspel 2017
" in the category "Best adult game".
Congratulations to the authors and publisher!
ZAMspielen at MQ
9. September 2017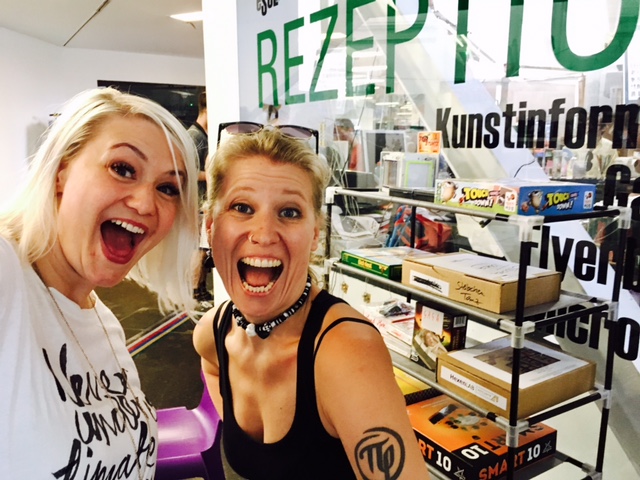 feat. eSeL Rezeption and White Castle Games
This time there were more analogue games played than digital ones. At least that was my impression. Awesome! Maybe that's because of our charming special guests Rita Modl & Florian Nadler, two of our game authors.

Thanks to all the players for your inputs.

I hope the tested prototypes will be released soon!

Holidays!
29. August 2017
I'll be gone from the 30th of August until the 6th of September
Afterwards we'll continue with several test events and a kids games development workshop.
The weekly game design meeting at the Spielbar continues regularly on Monday 11th.
Wake me up when September comes!
15th Austrian Game Designer Convention
24. Juni 2017
Austria's yearly Game Designer Convention takes place the 24th and 25th
The event starts this Saturday at 9 am in the games club Go7, Mariahilferstraße 82/2/21. (Go into the courtyard and up the stairs on the far right.)

The first day will be concluded with the traditional meet & greet.
On Sunday you can continue to present or scout game ideas from 9am - 7pm.

We are looking forward to new games and nice talks.

The Game for Life raised 5.400€ of funds for...
03. Mai 2017
...the Verein Initiative Autismus!
THANK YOU Katharina & Manuel & all helping hands, who have organised and worked hard to make yet another wonderful event in the Europark Salzburg happen.
While playing games contributed to charity, YOUR feedback, dear players, also contributed to our game design. With your input we will improve the tested prototypes. We hope to be able to donate some copies in their published form in one of the next Game for Life raffles!
Busy April: White Castle at the Game for Life!
11. April 2017

It's the 6th time the Game Charity Event takes place at Europark Salzburg!
On the 22nd and 23rd of April we travel to Salzburg, to attend the Game for Life.
With us we take the latest game prototypes of our game designers. Europark-Visitors can try and also criticize these from 11am to 6pm. After the shops close, the "inner circle" are invited to keep on playing. You can test our prototypes or present us your game ideas until Sunday afternoon.
Gesellschaftsklimatag 2017 - What do others think?
05. April 2017
Play games with them and find out!
On the 28th of April there will be "Sprechstunden der Vielfalt" in different locations all over Austria. We invite you to come and play with friends and strangers in the Fürstenhof MQ.

Come and play!
From 14:30 to 16:00 you can try new games for kids and families (ages 2+) with us and the wienXtra-Spielebox for free. We provide tables and chairs. You can join anytime!

Additionally at 14:00, 15:00 und 16:00 there will be moderated discussion in front of the wienXtra-kinderinfo - approx. 30 minutes each.
More information: www.gesellschaftsklima.at oder www.kinderinfowien.at/kontakt, www.sprachenrechte.at
The event is part of the Gesellschaftsklimatag 2017 and hosted by White Castle Games & WienXtra-Spielebox in cooperation mit WienXtra Kinderinfo & Netzwerk SprachenRechte (www.sprachenrechte.at) & dem Gesellschaftsklimabündnis.
Ferdinand de Cassan
15. März 2017
The advocate of games passed away
Hardly anyone dedicated so much effort to "the game". That is, over decades.
He created the Austrian Games Festival when there were hardly any games clubs. The Spieleliga, Spieleclub, the Austrian Games Academy, the Austrian Games Award "Spiel der Spiele", the "Long Night of Games"...
A life's work that will remain.
Our deepest condolences go to the family and close friends.
Go Cuckoo! wins As d'Or - Jeu de l'enfant 2017
14. March 2017
Congratulations Josep & Viktor and to publisher Haba.
We are happy to announce that Josep M. Allués and Viktor Bautista i Rocas "Go Cuckoo!" (French title: "Kikou le Coucou") won this year's French games award As d'Or in the category kids game.
The game was awarded at the Cannes Festival des Jeux in the end of February.
The games are gone - Anita is gone!
19. Februar 2017
On holidays: 20.2.-13.3.
Nuremberg was wonderful and we have almost entirely completed the follow-up.
That means: Almost all samples were shipped. Andreas will be in charge of the coordination of any prototypes still due to be shipped and also of any other game-related issues. Gudrun Gross will be available for administrative issues as usual.
I for my part will be lying in the sun for 3 entire weeks. I hope during my absence you'll have a wonderful time, awesome gaming, new ideas! I'm looking forward to see you again in spring! Anita